PRESS RELEASE
7 May – Back on PWBA Tour
SingaporeBowling's Sports Excellence scholars (spexScholars) – Cherie Tan, Daphne Tan, Jazreel Tan, New Hui Fen, Shayna Ng, – are back on the 2017 Professional Women's Bowling Association Tour (PWBA Tour). Tracy See and Jasmine Yeong – Nathan and spexScholars Bernice Lim and Joey Yeo, will join their teammates on the fourth leg of the Tour –  the United States Bowling Congress Queens (USBC Queens) event.
The PWBA Tour has a total of 14 events, of which the ladies will compete in the PWBA Storm Sacramento Open, PWBA Fountain Valley Open and finish off at the USBC Queens.
To recap last season, Cherie Tan won the PWBA Sacramento Open and Bernice Lim became only the sixth non-American kegler to win the prestigious USBC Queens. The team did not take part in the PWBA Fountain Valley Open last year. New Hui Fen won the Smithfield PWBA Tour Championship – the final leg of the Tour that pits the top sixteen players of the year against each other. She also captured the title of Rookie of the Year.
PWBA Storm Sacramento Open ran from 4 to 6 May, where Daphne Tan, New Hui Fen, Shayna Ng made it into the semi-finals. Shayna came closest to making the cut for the finals but lost at the round robin round (results attached).
During Saturday's qualifying rounds, Hui Fen was presented with her champion's banner for winning the 2016 Smithfield PWBA Tour Championship.
The next stop for the team is the PWBA Fountain Valley Open from 11 to 13 May 2017, followed by the USBC Queens from 17 to 23 May 2017. The finals of these two events are slated for 23 May 2017.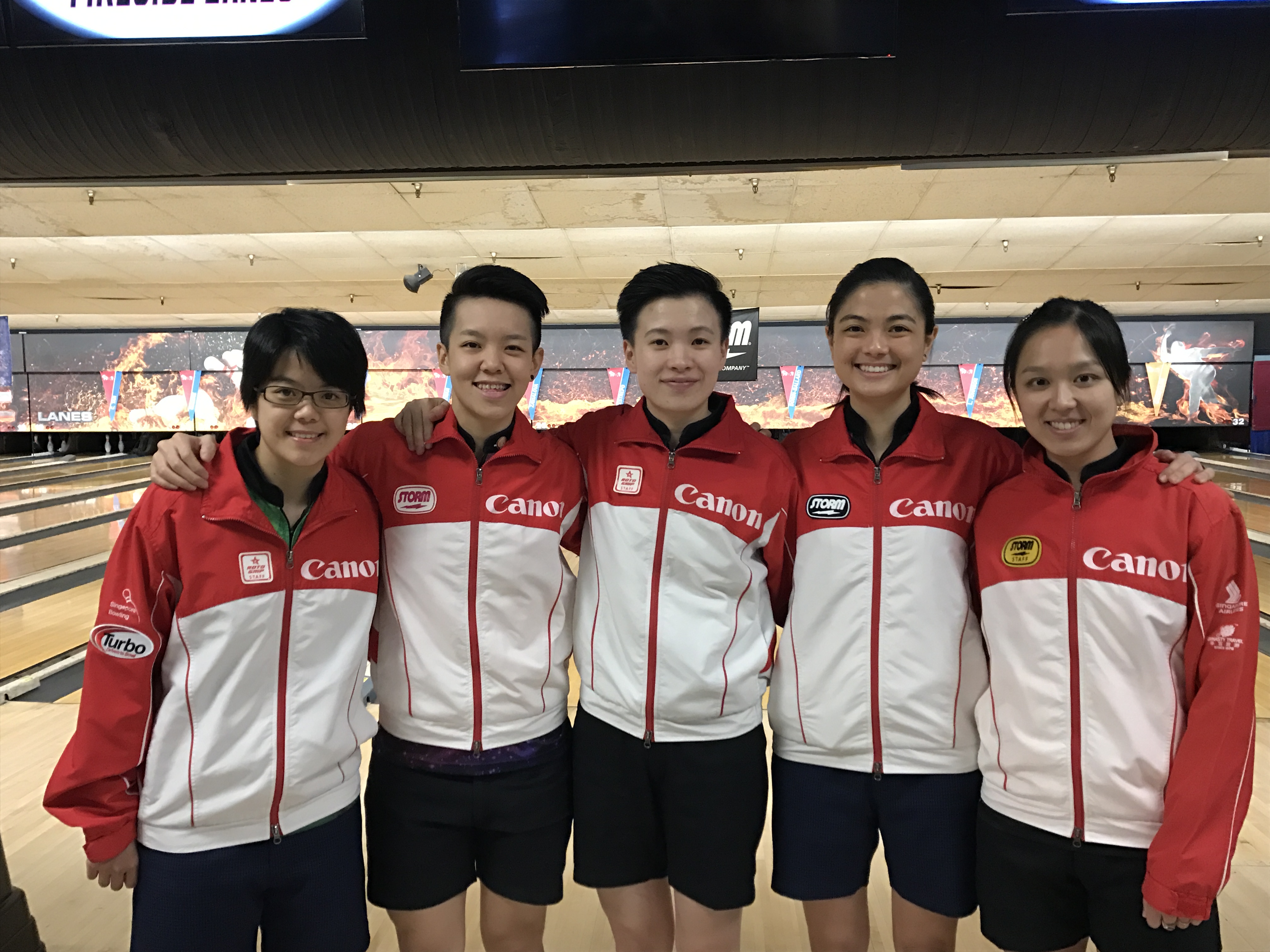 (From left: Cherie Tan, Shayna Ng, New Hui Fen, Daphne Tan, Jazreel Tan)